Camden 4-H Summer Fun!!!
Find this article at:
go.ncsu.edu/readext?798588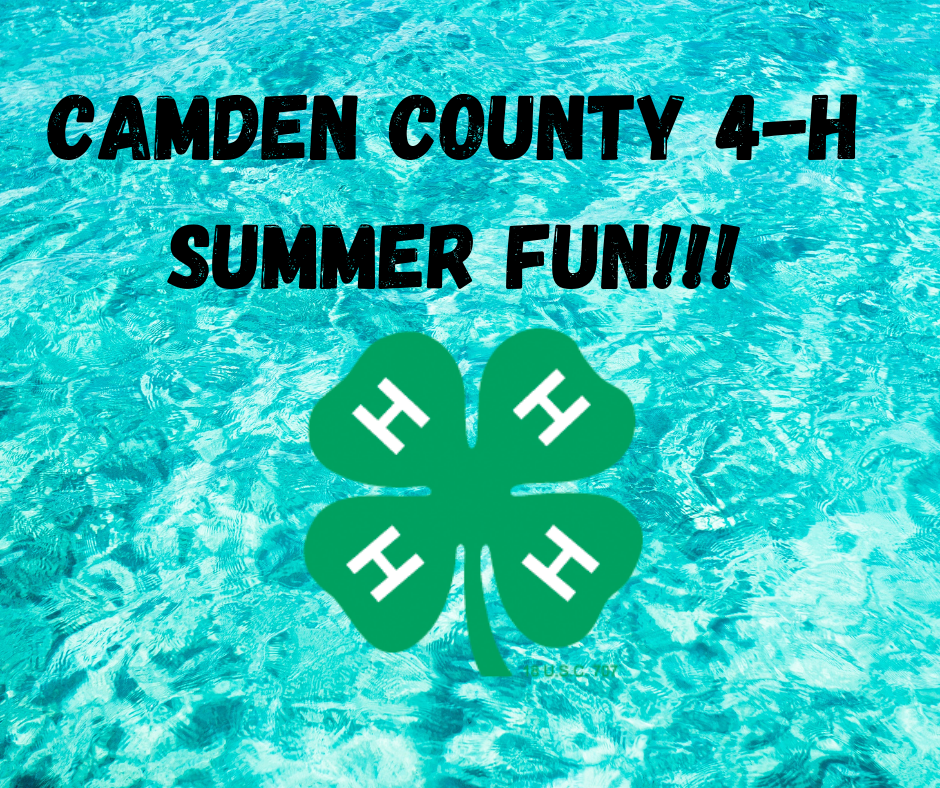 We are very excited to be able to offer in-person summer programming this summer!!! There is a lot to choose from but space is limited so act fast!!!
Treasure Point Outdoor Theater
Come enjoy a movie on the lawn at Treasure Point 4-H Camp (123 Treasure Point Road, Camden)! On Friday, June 11, 2021, at 8:30 p.m. (the movie will begin once the sun sets). We will be showing "The Greatest Showman."  This event is FREE and open to anyone. Please bring your blankets, towels or chairs and don't forget to bring your own snacks! Register at: https://go.ncsu.edu/treasurepointtheater
Kitchen Masters
Have fun mastering your way around the kitchen and receive a food safety certification to help you land that summer job in the food/hospitality industry, or just be more confident in the kitchen! This will take place June 14-17 from 9 a.m. to 1 p.m. at Shiloh Baptist Church. Space is limited to 12 youth ages 15-18. There is no charge for this event. Register at:  https://go.ncsu.edu/kitchenmasters2021
North Carolina Aquarium Field Trip
Enjoy a day trip to beautiful Roanoke Island located in Manteo, NC. Youth will learn about marine life and see fun, educational exhibits. This will take place July 9 from 8:30 a.m. to 3 p.m. Space is limited to 10 youth ages 6-13. Cost is $10.00 per youth. Register at: https://go.ncsu.edu/ncaquarium
Let The Games Begin!
Join us for an Olympic-style field day and take home the gold! Participants will compete in track and field type games, create Olympic crafts, and celebrate with a closing ceremony. This will take place July 23 from 9 a.m.-noon. at Camden Community Park. Space is limited to 24 youth ages 8-13. There is no charge for this event. Register at:  https://go.ncsu.edu/letthegamesbegin2021
Camp Cale Fun Day
Enjoy a trip out to Camp Cale complete with a cookout. There will be opportunities to fish, climb the rock wall, shoot archery, and more. This will take place on July 26 from 9 a.m.-3 p.m. Space is limited to 30 youth ages 6-16. There is no charge for this event.
Register at: https://go.ncsu.edu/campcale2021
The Artist In You
Unleash the inner artist in you. Create an art project that can be submitted into the NC State Fair this Fall. You can use any medium you wish, from drawing, to painting, to sculpting and so much more. This will be held on August 4 from 1:30-4:30 p.m. at the Camden County Library. Space is limited to 12 youth ages 5-15. There is no charge for this event. Register at:  https://go.ncsu.edu/artistinyou
Sylvan Heights Bird Park
Nestled in Scotland Neck, NC is the Sylvan Heights Bird Park. Learn more about different birds, and interact with them as well. This will be held on August 20 from 8:30 a.m. to 3 p.m. Space is limited to 10 youth ages 6-13. Cost is $10.00 per youth. Register at: https://go.ncsu.edu/sylvanheights