4-H Geology Explorer Camp Registration Now Open
Posted On

June 21, 2018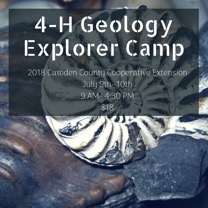 Camden County, N.C. – Registration for 4-H Geology Explorer Camp on July 9 and 10 from 9:00 a.m.-4:30 p.m. is now open! Youth ages 9 to 13 years old can spend the first day of camp outside at Treasure Point 4-H Camp as become geologists for the day. The day will be filled with games and fun activities including breaking open and exploring their own geode. The second day will include a trip to Aurora Fossil Museum where youth will get to explore and dig into a giant fossil pit. The cost of the program is $18.
There will be plenty of smiles as youth find all the fun that lies underground. All participants should bring lunch, snack, water, sunscreen and bug spray since we will be outside all day.
Sign your youth up today for this two-day adventure in rock cycles, fossil location, how to be an archaeologist and mining.
Registration is available online. Your spot is confirmed when payment is received at the Camden County Cooperative Extension Office and 4HOnline registration is completed. Space is limited and available on a first come, first serve basis.
For more information and for accommodations for persons with disabilities, contact Camden Extension Center at 252-331-7630 or email Ali_Huber@ncsu.edu no later than ten business days before the event.