Get the Most Out of Your Kitchen Appliances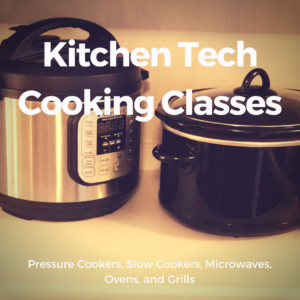 Get the Most Out of Your Kitchen Appliances-Sign Up for a Kitchen Tech Cooking Class!
There are tons of kitchen tools available to the amateur home cook, however some of the tools can be really overwhelming. Even seasoned cooks can sometimes find themselves unsure of how to get the most out of their kitchen appliances. Review the full schedule below and join NC Cooperative Extension, Currituck County Center for one or all of our Kitchen Tech Cooking Classes. Classes will be held from 6:00 to 8:00 p.m. with a class fee of $20.00. Experience hands-on meal prepping, cooking and storage. Leave with a full stomach and goodies to take home!
March 13th  Electric Pressure and Slow Cookers
April 10th  Ovens and Microwaves
May 15th Grilling
Pre-registration is required. You can register online at go.ncsu.edu/whatscookingsignup or by contacting the office at 252-232-2261. Class size is limited and reservations are made upon receipt of class fee. Payments can be made in person at the N.C. Cooperative Extension, Currituck County Center or by mailing a check made payable to "Currituck County" to 120 Community Way, Barco, NC 27917. Please include in the memo line the name of the class(es) you wish to attend. For a complete list of upcoming cooking classes visit go.ncsu.edu/whatscookingcurrituck.
For more information or accommodations for persons with disabilities please contact Olivia Jones at 252-232-2261, email olivia_jones@ncsu.edu no later than ten business days before the event.
NC State University and N.C. A&T State University commit themselves to positive action to secure equal opportunity regardless of race, color, national origin, religion, political beliefs, family and marital status, sex, age, veteran status, sexual identity, genetic information or disability. NC State, N.C. A&T, U.S. Department of Agriculture, and local governments cooperating.