Meet Olivia Jones, Family Consumer Science Agent!
FOR IMMEDIATE RELEASE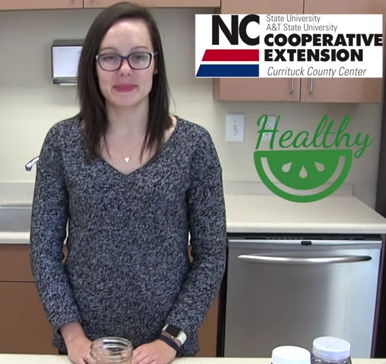 Currituck County Cooperative Extension's Family and Consumer Sciences Agent, Olivia Jones will be expanding her vast program offerings into Camden County. Under the new Extension Strategic Plan, Olivia has assumed responsibility for leading Family and Consumer Sciences programming in both Camden and Currituck Counties.
During her tenure in Currituck, Olivia has built an outstanding program based heavily on nutrition and health. Her food preservation classes, healthy cooking classes and fitness initiatives have a devoted following in both communities and are regularly at capacity.
Ms. Jones has been a state level award winner for her outstanding programs numerous times in her brief tenure. She is a graduate of Appalachian State University and holds a bachelor's degree in Family and Consumer Sciences, Secondary Education.
N.C. Cooperative Extension based Family and Consumer Sciences programming takes research conducted at the university level and offers it to our local communities in a fun, hands on manner. "The goal of my programming," says Jones, "is to help people improve their quality of life through my educational efforts. I look forward to expanding into Camden County."
The Camden County Center of N.C. Cooperative Extension extends to county residents the educational resources of NC State University and NC A&T State University. Both universities commit themselves to positive action to secure equal opportunity regardless of race, color, creed, national origin, religion, sex, age, or disability. In addition, the two Universities welcome all persons without regard to sexual orientation.